Activities
Join Hands with us for the Noble Cause
Dear All,

We want to thank you for your interest in the activities of Aashra Foundation. Here is a short history and some activity details which we conduct on a regular basis. AashraFoundation supports NGOs by giving them technical and financial help in replicating the activities to help the poor, orphans, old age, HIV+ve and differently-abled.
Blood Donation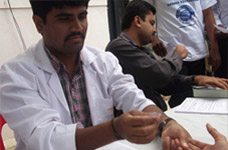 We organize Blood donation camp every year, which is sponsored by DS-MAX Properties Pvt Ltd. We organize this camp with the help of Rotary and Red cross blood banks. Where hundreds of people take part in this camp, along with the entire Organizational Team of DS-MAX will be a part of this donation camp, even Celebrities, Political heads, IPS and IAS people also would join us to make it a very successful camp.
Read More
Food Day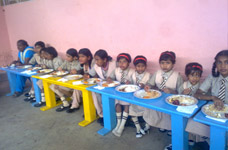 Aashra Foundation has been instrumental in organizing several community service programs and Food Fest is one among such initiatives. Recently, we organized'food day' for charity kids, where we sponsored lunch for 200 HIV+ children.Different kind of dishes was prepared to serve these little buds.The kids were relishing the dishes laid out to them with much delight. The Food Fest was sponsored by DS-MAX Properties Pvt. Ltd.
Read More
Sports Day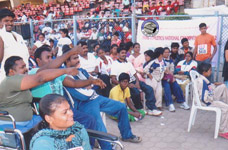 When we visited the under-privileged children in MagadiTaluk, we were thrilled by their talent and enthusiasm. The energy they exhibit is amazing. We thought it would be nice to organize Sports day where these energy and talent will be visible to others as well.
Read More
Cultural Activities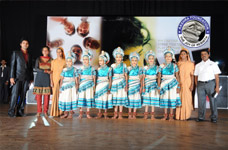 If you observe nature closely, you will discover the wonderful ways through which it inspires us and sometimes even talks to us through its mysterious ways. Differently-abled people are the same; the way they express themselves may be different but it is special in many ways. This time around, we have organized a cultural event for these kids. And God! You should see their talents.
Read More
Old Age Home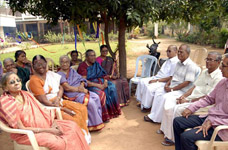 Think about elders and what comes to your mind first? Respect,of course! But, unfortunately 'respect' has now become a thing of the past. According to a recent analysis, more than 30% of the elder population lives separately, away from their families for whom they have struggled their entire life. The uniquely famous joint-family culture in India is now a past history. Have we become so selfish and so stone-hearted that we have erased all the meanings of love, care and respect from our minds?
Read More
Mid Day Meal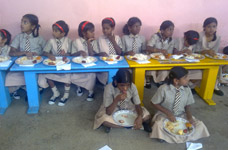 Mid-day meal programme is yet another initiative of Aashra Foundation. Through this programme, we distribute healthy, hygienic food to young and old who struggle for a single time meal. This is an effective project through which we try to reach as many people as possible.
Read More
Empowering Women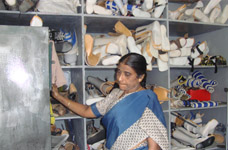 Aashra Foundation supportseveral organizations which train women to be self-employed and self-reliant individual. These organizations play a vital role in shaping the women to be an independent member in the society who can take their own decisions. These women earn their living through small businesses like handicrafts, candle-making, incense, etc.
Read More
Education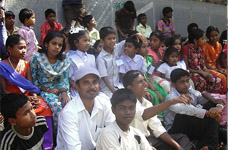 In Aashra Foundation, we strongly believe that "education" is one of the most important weapons to eradicate poverty and improve the condition of the society.Our strong involvement with voluntary organizations that work on literacy and education, in rural areas, urban slums and remote tribal communities ensures that every individual on our radar who needs assistance in education is attended to. Through these initiatives, over 100,000 adults and children have benefited so far.
Read More
Deaf & Dumb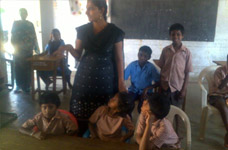 Aashra Foundation is one of those privileged organizations that support specially-abled children (children who are not able to speak or listen).Currently, we have 33 children age ranging from 3 to 15 years, among whom few are orphans. Here, we would like to mention about a special school which teaches sign language to specially-abled children. They also offer hostel facility.
Read More
Blind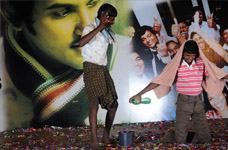 Aashra Foundation supports a school for blind children. This is one of those special projects where we are able to transform live in a colorful way. The School which we support for this cause was founded for children who were born blind or visually impaired.
Read More
Mentally Challenged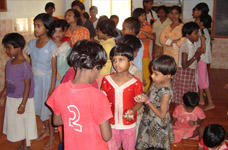 Aashra Foundation has taken a strong stance on this case to change the perspective and the way differently-abled people are looked upon. Our projects are strategically segregated targeting upon the need of specific group depending on specific needs. Vocational Habilitation Centres are doing a tremendous social service in guiding these children and enabling them to be important member in the society.
Read More
Cancer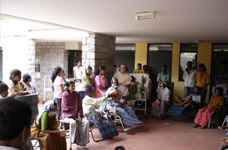 Cancer is a life-threatening disease, which needs immediate attention. In India, cancer hospitals are packed throughout the year, which implies that, the rate of cancer patients are rising every day. Cancer can be treated if it is detected early through surgery, chemotherapy or radiation. There are several Government aided hospitals and institutions which are specifically meant for cancer patients. However, there are countless numbers of people who become a victim of this disease.
Read More
HIV +ve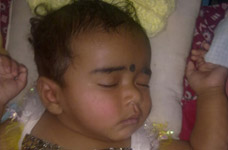 Aashra foundation has a different activity which supports HIV+ve Children and Women.Aashra foundation has been an active participant in the area of comprehensive care & support for HIV+ve. During a time when HIV meant shame & silence, Aashra foundation which is working in the field of de-addiction, opened its doors to people infected with HIV.
Read More