Women
Empowering Women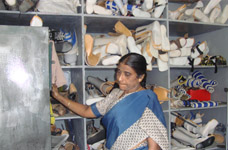 Aashra Foundation supportseveral organizations which train women to be self-employed and self-reliant individual. These organizations play a vital role in shaping the women to be an independent member in the society who can take their own decisions. These women earn their living through small businesses like handicrafts, candle-making, incense, etc.
read more
Most of these women come from poor families, orphanage homes, etc. Some of them are even abused and tortured by their husbands and family members. Our organization's main goal is to organize under privileged womenand offer jobsecurity through regular paying jobswith which they can earn their living and also manage their family. Apart from job securities, these women are also provided regular education, medical care, food and lodging and lots of love and care.

There are still countless number of women who are abused and exploited, despite their long hours of hard labour. Our aim is to free these women from the limitations and bondage imposed on them by society and the economy. We are supporting several organizations in capacity-building and in developing their own economic organizations. These women receives severalskill enhancement trainings like tailoring, painting, weaving, craft work, driving, embroidery, government schemes, etc.