Children
Food Day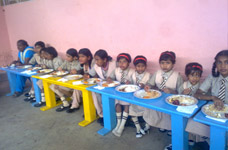 Aashra Foundation has been instrumental in organizing several community service programs and Food Fest is one among such initiatives. Recently, we organized'food day' for charity kids, where we sponsored lunch for 200 HIV+ children.Different kind of dishes was prepared to serve these little buds.The kids were relishing the dishes laid out to them with much delight. The Food Fest was sponsored by DS-MAX Properties Pvt. Ltd.
read more
During the fest, we had organized several programs to entertain these kids. DS-MAX staffs, who were also part of this day, took active part in the program. The strong connection we had built with the kids was astonishing. We were touched by the innocence, the purity and the genuineness which we still well intact with these kids. It was a delightful experience to see the glow of happiness on their faces as they smiled and laughed their hearts out.

Even you can be a part of this awesome experience. You can contribute to this noble cause by helping them or sponsoring them in your own comfortable ways.Please remember they don't need sympathies, but empathies. Join us in making these children smile and create a healthy environment for growth.

Mid Day Meal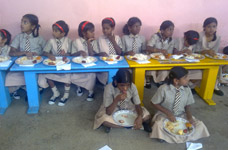 Mid-day meal programme is yet another initiative of Aashra Foundation. Through this programme, we distribute healthy, hygienic food to young and old who struggle for a single time meal. This is an effective project through which we try to reach as many people as possible.
read more
In India, there are still millions of people who live below poverty line. Their condition is so pathetic that they can't even find jobs other than begging and collecting garbage. The earnings from this is not enough to even feed a single stomach, just think about feeding the whole family and meeting their needs.

What we are trying to do here is to reach out to the under-privileged masses, specially the little ones for whom nutrition is very essential for growth and well-being. We have been conducting the mid-day meal in several rural areas, other NGOs and orphanage homes. Through this project at least a handful of people now enjoy healthy food once in a day. You can be a strong contributor in this noble cause by helping us to help others who need help and support.