Story of Hope
Cancer Victim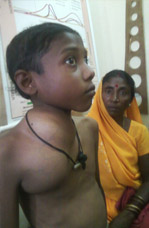 This is a real story of a mother and a child, who was affected with cancer and wasstruggling for treatment. The cancer victims are Mrs. Savitha and her daughter Mary Suzan. Mary Suzan was diagnosed with chest wall malignant tumor in the year 2004, when she was just 2 years old. She is undergoing treatment at Kidwai Hospital. She needs 4 cycles of chemotherapy. The approximate cost for chemotherapy and supportive care costsRs. 60,000/-. Now recently, in 2009 her mother was diagnosed with sex cord stromal tumor and she is undergoing chemotherapy treatment at St. John Hospital. She has been advised for 2 course of chemotherapy. Since, it is at the starting stage, if ignored it might lead to an extent where she can lose her life. The expenses for her daughter's treatment will cost around Rs.1,80,000/-, and the treatment for her mother will cost around Rs.1,65,000/-.
They come from a very poor family, and their monthly income is around Rs. 3,000/- per month.They are not in a condition to provide proper 3 time food for themselves; they think it is impossible to get the treatment.
They have approached us with a hope that they can survive this disease with our help. It is our kind request to you to join us and support people like Suzan and her mother who are battling for their lives.