Specially Abled
Sports Day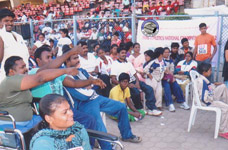 When we visited the under-privileged children in MagadiTaluk, we were thrilled by their talent and enthusiasm. The energy they exhibit is amazing. We thought it would be nice to organize Sports day where these energy and talent will be visible to others as well.
read more
The sports day was a day-long event, where more than 100 children participated. Different sports activities like 100mts race, 200mts race, 100mts, 200mts relay, 100mts sack race, cycle race, etc. were held. Several activities like rangoli competition, dance competition, etc. were also conducted.

Lunch and energy drinks were distributed to the children during the event. In the end, special prizes were given to the winners and certificates were distributed to all the kids who have participated.

Cultural Activities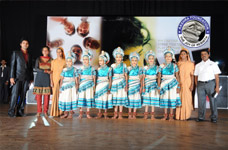 If you observe nature closely, you will discover the wonderful ways through which it inspires us and sometimes even talks to us through its mysterious ways. Differently-abled people are the same; the way they express themselves may be different but it is special in many ways. This time around, we have organized a cultural event for these kids. And God! You should see their talents.
read more
Some of the kidscould not listen or speak, while others are HIV infected. But, in spite of these hardships each of these children was equipped with unique gifts and abundance of talents. The enthusiasmand vigor they displayed caught our attention to think how uniquely special these kids are. The songs they sang, the dance and drama they performed were commendable. It was a brilliant display of exceptional skills and talent waiting for an opportunity to explode.

The interest and dedication they showed in learning these activities won them our admiration. These kids need proper guidance and training to hone their skills to perform in a bigger platform. Can you and I do something to make their dreams come true? Of course, we can and we are doing our best. Are you?

Deaf & Dumb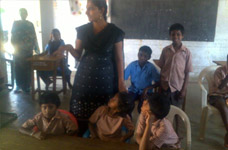 Aashra Foundation is one of those privileged organizations that support specially-abled children (children who are not able to speak or listen).Currently, we have 33 children age ranging from 3 to 15 years, among whom few are orphans. Here, we would like to mention about a special school which teaches sign language to specially-abled children. They also offer hostel facility.
read more
We are trying to get support from the government, public donors and some organizations to effectively plan and execute programs which will benefit these children. We believe and trust in the people who have special concern to support these children. You can extend your precious support and help these kids with your generous contributions and support.


Blind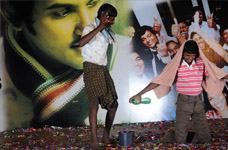 Aashra Foundation supports a school for blind children. This is one of those special projects where we are able to transform live in a colorful way. The School which we support for this cause was founded for children who were born blind or visually impaired.
read more
Besides classroom teaching, special emphasis is given on acquiring life skills to equip these children to be independent and ready to live a normal life. Teachers and volunteers from various backgrounds collaborate on planning and implementing effective, educational programs.Hostel facilities are available for students, where they receive proper guidance at all times along with proper medical care and hygiene facilities.This school houses more than 500 under-privileged boys and girls, both sighted and visually impaired.



Mentally Challenged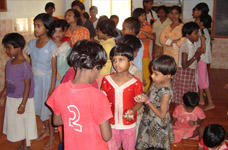 Aashra Foundation has taken a strong stance on this case to change the perspective and the way differently-abled people are looked upon. Our projects are strategically segregated targeting upon the need of specific group depending on specific needs. Vocational Habilitation Centres are doing a tremendous social service in guiding these children and enabling them to be important member in the society.
read more
At present, we support over 100differently-abled and Autistic individuals, of all ages.These habilitation centres have unique programs which are specifically designed focusing on the need. The programs help them to be independent and self-reliant to be able to integrate and exist normally in the society. Most of them have shown tremendous positive response to our programs. Programs like counseling, special education, physiotherapy, self-care skills, speech therapy,domestic skills, etc. have proved very beneficial.

At these centres, vocational courses such as tailoring, greeting cards,candles, paper products, etc. are imparted, thus keeping them engaged in productive works and also empowering them with economic independence. Other leisure activities like music, sports, and story-telling are conducted regularly to increase their receptive ability and involve them socially with other groups.

Our consistent effort lies in educating and creating awareness about such habilitation centres which will greatly help differently-abled individual to be accepted by the society and family to co-exist in the society as an important and respected individual.